In this guide, I am going to show you how to do keyword research for your local business. In addition, I will be sharing easy ways to conduct keyword research without any SEO tools.
But first thing first, let us clearly understand what local SEO means, what purpose it serves and how it can drive more business from Google Search.
What is Local SEO?
Local Search Engine Optimization or Local SEO means optimizing your local business website so that it starts getting leads from Google Search. Any business with a physical location can take the leverage of local SEO. In 2022, if you have a company that serves specific services in a particular location/city/area, your target customer will search for the service on Google.
How Does Local SEO Works?
The Google algorithm measures proximity as a factor in showing your local business in Google Search. That means Google will take your target customer's location into account when they are searching for your service.
If you are at your office and want to get pizza delivered for lunch, Googling "Pizza Delivery" shows you a list of locations near your office.
Searching the same from your home will show you an entirely different set of results in the local pack (Maps, GMB).
Again, Googling "Pepperoni Pizza" will also show you locations in your close proximity, even though this keyword has a mixed intent. Additionally, you will see recipes, YouTube videos, and "How to" Guides.
Local SEO Statistics
1) A study in 2018 suggests that 46% of all searches on Google have local intent.
That means the number of monthly local searches is 97 billion. Over 12 months, the number is 1.17 trillion a year.
2) According to Google, people searching local search queries visit 1.5 billion locations every month. That is 32.8% of all internet users visiting a local business.
3) 78% of users who visited a brick-and-mortar store searched online before visiting a store.
What are the Advantages of Having a Comprehensive List of Keywords for Your Local Business?
Having a detailed list of local keywords will help perform various SEO-related tasks.
You can research informational topics for blogs.

Keywords help optimize image alt texts, anchor texts for internal linking, and other ON-Page SEO activities. Having a list of related keywords can help follow all the ON-Page SEO best practices.

Link building is a crucial part of SEO and one of the most important ranking factors. A comprehensive list of keywords will play a critical role in backlink strategy. Often businesses consider link building services to create a healthy link portfolio. Make sure to target the right set of keywords in your link building campaign.
Now, How You Will Find Keywords Without Using any Tool?
First, define your business. As a business owner, you understand your business more than anybody else. In this article, I consider myself an owner of a "Car Service Center in Dubai" just because I have a fascination with cars.
Your business can be a Dental Specialist based in New Jersey, a saloon based in Milan, or a Japanese restaurant based in Tokyo. You can be a Lawyer, a doctor, a fitness trainer, a tax consultant, or a guitar tutor. Just make sure your business has a location. It can have multiple locations as well.
So, I am starting with my business, "Car Service Center in Dubai."
The Power of Google Auto Suggest
Search this keyword in Google and see what Google Suggest shows you. If you are not aware of Google Suggest, it's nothing but the search box where you usually type your queries. Upon hitting the search button for your search query, you will notice a list appearing in the search box. Let's check the screenshot below:
Google suggests keywords that are related to my business. I will consider keywords Like:
Car service center near me

Best car service center in Dubai

Car service Dubai price

Car repair Dubai 24 hours

Car service offer in Dubai
Now, you might be wondering why I didn't consider the keyword "Car service at home Dubai". It's because I am assuming my workshop does not provide home service. Also, I am not considering Sharjah locations as I only have my workshop in Dubai.
So, I already got a list of keywords for free which defines my business. Now, remember, whatever represents your business, should be the subject of your homepage. You may provide different services which can be categorized. You may serve different brands. All of which should have their dedicated service pages and should not be targeted in the homepage.
Let me help you with a clear example. I am assuming I provide car service to only European brands like Audi, BMW, Porsche, Range Rover, and Rolls Royce.
Each car brand will have its target pages with different keywords.
If you provide accounting services in London, "Account services in London" should be the keyword you need to target for your homepage. Now, under "Accounting Services," there can be multiple categories and sub-categories of services like "Tax Consultant in London," "Audit and Assurance," "Corporate Finance consulting," etc. All those service categories will have their dedicated pages as they have different search intents.
In my case, I will create pages like "Audi Service in Dubai," "BMW service in Dubai," Rolls Royce Service in Dubai," etc. etc.…
Now coming back to the original topic, how to find local keywords (for free, apparently)
Spy Your Competitor's Page Title (SEO Title)
Look into the organic search results (I assume you are already aware of SEO and organic results). See what type of businesses are coming there, how they have defined their business. What Title did they use in their page?
I can see some of my competitors and one blog. Now, look into their page title (also known as SEO Title).

The first one is Servicemycar.
They have added keywords like "Auto service" and "Car repair center in Dubai."
Now, are these two keywords being relevant to my business? Yes, it is! As a car service center, I should be repairing cars right. But let's be 100% sure by looking into another competitor.
It seems like this website has targeted another related keyword; "Car Repair Dubai."
Now, We have found a comprehensive set of keywords in hand
Car service center near me

Best car service center in Dubai

Car service Dubai price

Car repair Dubai 24 hours

Car service offer in Dubai

Car repair Dubai
All the above keywords have commercial and transactional intent. That means these keywords are money terms. People will likely take action when they find my competitors. It can be calls, WhatsApp messages, inquiry submission, chatbot, and interacting with their social pages.
Google always suggests optimizing pages with the information first approach. That means only targeting money keywords will not work. Instead, you need to add informative keywords to the page as well.
The question is, where to find those information intent keywords?
The answer is the People Also Ask section in the search result.
The Magic of People Also Ask
And…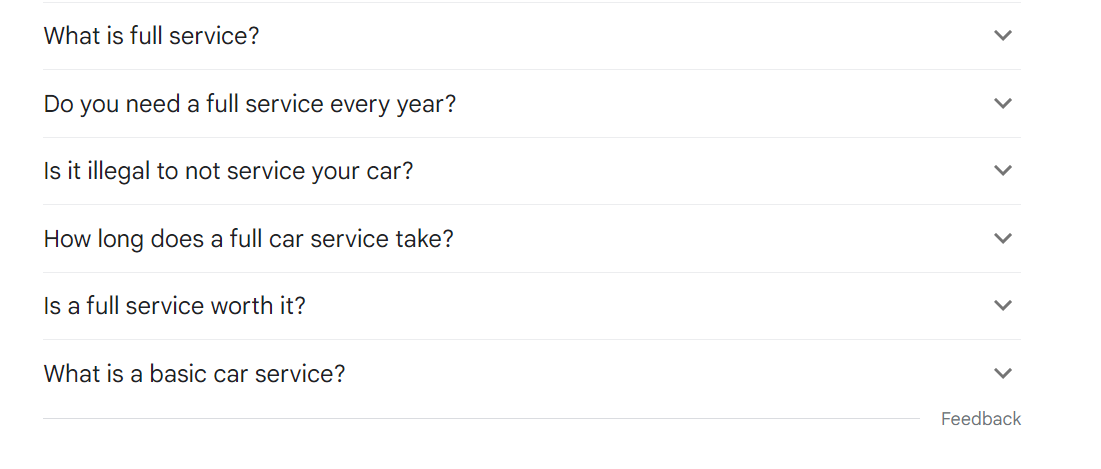 All these questions are basically user queries that people are asking on Google. In fact, according to Google, 14.1% of all searches on Google in 2020 were questions. This number is going to go higher as people are researching more online.
Collect all the related "People Also Ask" questions and come up with comprehensive answers. This could be an excellent content optimization strategy.
Now, How to Find LSI Keywords?
To answer that, first, we need to know what LSI keywords are.
LSI (Latent Semantic Indexing) keywords are words that are closely related to your main keywords. But they are not synonyms. Instead, they are words that can help define a page's topics.
For example, if my page's primary keyword is "Car service center in Dubai," LSI keywords can be "Certified technicians," "workshop," "car specialist," "Genuine car parts," etc.…
A great way to find the LSI keywords is to analyze competitors' pages and look for words that can define your service closely related to it.
If I provide car repair service, I must have some certified technicians who know in and out of a car. Therefore, mentioning certified technicians in the content will help Google understand that I have expertise in the car service business.
By following the methods mentioned above, you will be able to find a list of keywords that can define your local business.
Concluding Lines
Of course, the keyword research should be more extensive. But, having a set of keywords in hand will help you track keywords that matter the most. Then, before outsourcing your site's SEO work to some agency, you will be able to make them understand your requirement. In addition, you can check whether their keywords findings align with your business targets or not.