Today I'm going to show why you should learn SEO in 2023.
What's the scope of SEO as a career in India?
And…is SEO a good career choice in India?
Let's find out:
But first:
What is

SEO

?
SEO is the process of ranking a website in Google's organic or unpaid search results.
Like this:
And this:

Reasons to Choose

SEO As A Career

in India 🙂
There are lots of reasons to choose SEO as a career in 2023 and beyond.
Keep reading to know:
(1) HUGE

Demand

for SEO Services (Worldwide)
Big or small online business owners are always looking for Google's first page rankings.
Why?
Because everyone knows that almost all the searches happen on Google.
Most importantly, Google is the MOST visited website (search engine) on the planet…
So, if their websites successfully rank in Google, they will get highly targeted traffic.
(Consistently).
More targeted traffic = More Leads

More leads = More Sales

More sales = More money
To make this happen, they need SEO professionals.
Needless to say:
If you learn SEO and become a knowledgeable SEO expert, they will hire you for ranking their website.
Also, according to Google trends the demand for SEO is increasing worldwide.
This is very important data.
Now:
I have a surprise for you.
And…the surprise is this:
Yes, SEO is more popular than Digital Marketing worldwide.
SEO is also more popular than Digital Marketing in India as well.
This data comes directly from Google.
It proves that:
SEO is still the MOST powerful traffic channel online.
No doubt about it…
(2)

SEO Experts Make

Good Money

By Doing Job
After learning SEO properly, you can get a job in an SEO or Digital marketing company.
Nothing beats when it comes to working in a practical world.
The best way to keep learning is to work in a company for a few months or years.
Also, you can earn handsome money as an SEO expert in a corporate company.
The salary depends on lots of factors…
Such as:
Your SEO knowledge
Your skills
Your English
The company's requirements
Your smartness
Your communication skills
Your pressure handling ability
And more…
In short: The more experience you gain, the more it will be easy for you to learn to face SEO challenges.
(3)

Numerous SEO

Job Opportunities

in India
The SEO career opportunities in India is tremendous.
There are numerous job vacancies available in the SEO field.
For example:
If you sign up in Indeed, they will send you emails regarding the SEO job vacancies.
(Based on your given information during sign up in Indeed)
Like this:
Companies are always looking for good SEO professionals.
(Freshers and experienced both)
This is very important.
You can also do research on Google to see SEO job opportunities in your preferred area.
Say, you want to do an SEO job in Kolkata.
You can search in Google with SEO jobs in Kolkata:
When you do, you will see something like this:
Google uses machine learning to help people find jobs, and make it easier for companies to find talent.
If you click on the 100+ more jobs link:
You will be redirected to a job page and you will find all the SEO job opportunities in Kolkata.
Not ends here:
According to naukri.com (A renowned job portal), several jobs are available in SEO.
Very cool 🙂
(4)

Ability to Work From Anywhere As A

Freelancer
If you want to work as an individual, you should choose SEO as a career in 2023 and beyond.
Search engine optimization will give you scope to work from anywhere.
This is the BIGGEST asset of an SEO career.
If you search in Google, you will notice that thousands of SEO experts are working as a freelancer (independently).
Be it India or outside of India, there is a crowded market in SEO freelancing.
USA, UK, Canada etc. big countries are willing to hire an SEO expert.
This is really HUGE.
If you want to work as a freelancer, your ultimate goal should be ranking your own website on Google.
So that, whenever your target customers search in Google with SEO freelancer in (location), your website should rank higher in Google.
(5)

You Can Provide

SEO Course

(Online & Offline)
Apart from doing a job and freelancing, you can also provide SEO courses online and offline.
This is a GREAT way to educate SEO newcomers.
And…earn money.
The sad truth is:
Most of the SEO institutes are pathetic.
(Yes, true).
People are willing to learn quality SEO.
Unfortunately, these so-called "best SEO institutes in (location)" ONLY focus on earning money and doing business.
Your focus should be to educate SEO lovers and then earn money.
Trust me, over time you will achieve MORE success and reputation than these institutes.
(Note: Not all institutes are bad. However, the majority of the institutes are pathetic.)
The SEO industry badly needs quality SEO teachers.
In other words: You.
Best of luck.
(6) You Can Start Your Own

SEO Company
Once you learn the fundamentals of SEO and you are confident enough, you can start your own SEO agency.
Bingo! 🙂
To do that, you need a solid team.
Like:
SEO experts, content writers, web designer, web developer etc.
Before starting an SEO company, you MUST ask yourself:
How do I get customers?
You or your team should make some plans on how to consistently get SEO customers.
Otherwise, it will be difficult to sustain in the market.
There are a few ways to get SEO clients consistently.
However, the best way is:
Ranking your website on Google's first page for targeted keywords.
For example:
I provide SEO, blogging and YouTube training.
(Online and Offline both)
My goal is to get lots of new students.
And…I knew that people are searching for my courses on Google.
So:
I made plans to rank these courses on Google as soon as possible…
Fortunately, my courses started ranking for several targeted keywords.
Like this:
And this:
And this:
Today, I get several calls and WhatsApp messages regarding these courses.
For example:

And this:
And this:
And this: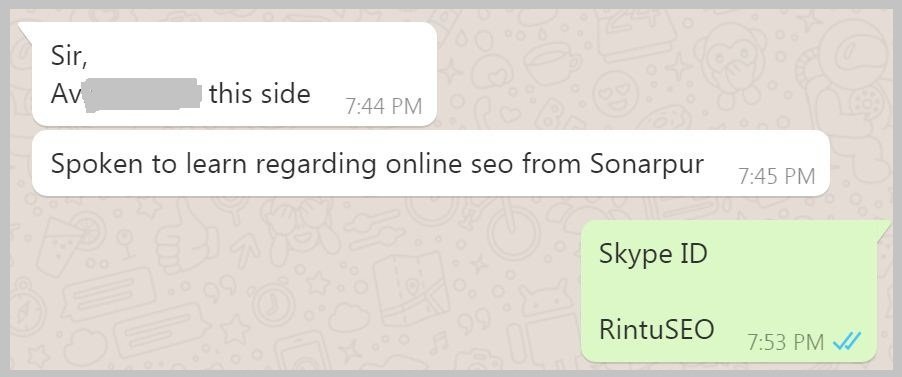 The list goes on. 🙂
Thanks to my Google rankings.
In other words: "SEO".
Cool 🙂
SEO Career: 
Frequently Ask Questions
Is SEO a good career?
Of course YES. 
SEO is a dynamic industry. You will be fortunate to learn NEW techniques in Google's SEO. If you work on your SEO skills, you will be able to get SEO clients from all around the world.
How much can you earn from SEO?
The short answer is: It depends…
Every industry is different. Every client is different.
If the SEO campaign is for a highly competitive industry like E-commerce, Law firm, Insurance, real estate, then you can earn GOOD money.
Is SEO easy to learn?
Yes and No. 
Confused? Let me explain…
In theory, SEO may look like an easy subject to understand.
However, in some industries getting real SEO results is challenging.
For example:
Ranking a local website in a small city is a simple SEO task (in general).
But:
Ranking a BIG website like an e-commerce website or real estate website in a popular city is challenging.
You have to practice a lot.
In simple words: You have to work on every niche website and need to achieve SEO rankings.
How can I make money from SEO?
It's a nice question.
There are several ways you can earn money from SEO.
Following are a few of them:
Working in a digital marketing or SEO company in your city

Working as a freelancer (work from home)

Providing SEO training
What knowledge is required for SEO?
You need basic computer and internet browsing knowledge.

You should have a good command of English. Also, you should have good communication skills in English.

You need to update yourself with new SEO techniques
Is SEO a dying industry?
Absolutely NOT.
SEO is more alive than ever before.
Just look at the following screenshot:
As you can see in the above image, the popularity of SEO is growing worldwide.
This is a HUGE data for you.
In short: Is SEO a good career choice in India?
Definitely YES…
Final Words:
SEO is popular…
SEO will remain popular…
And…
SEO is still the best online traffic source for MOST of the websites and blogs.
I have just shown you the present and future scope of SEO in India and worldwide.
Lastly, it's up to you to choose what you like the most.
Now:
I'm curious to know:
Are you willing to learn SEO?
Let me know by leaving a comment below RIGHT now!