Today I'm going to show you how to rank a new website on Google.
(In 2023 and beyond).
If you ever asked yourself: how to rank my website on Google?
(Especially for competitive keywords)
You will LOVE this guide 🙂
Without wasting any time let's get started…
But first:
What is SEO?
In simple terms:
SEO is the process of ranking your website in Google's organic (FREE) results.
Like this: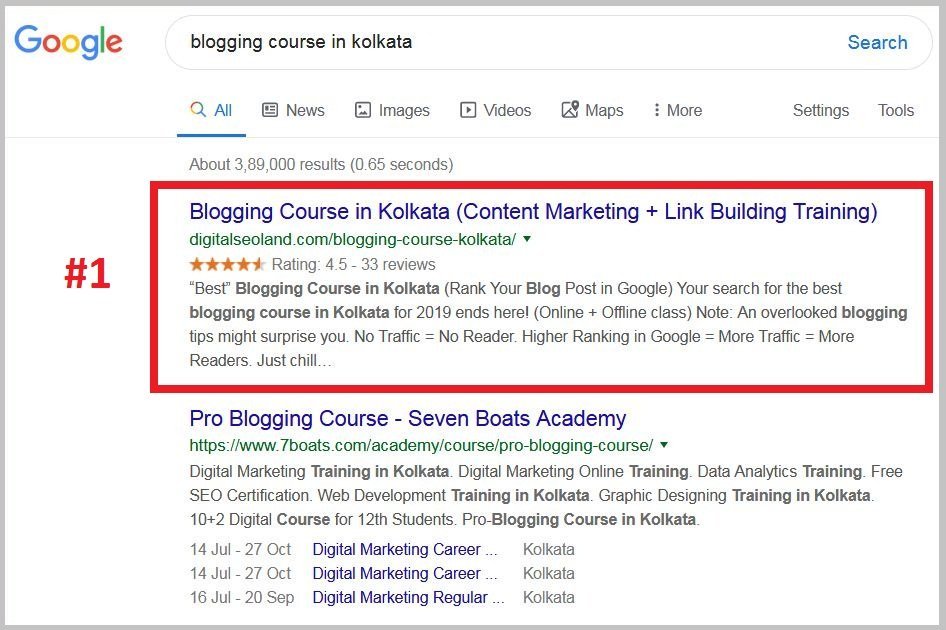 And this:
Now:
Let's see the actual process of how can you rank your website on Google.
(Consistently)
Want Google's first page rankings and more traffic?
Contact us Today!
WhatsApp: +91 8013023976
Email: rintubiswas7@gmail.com
(1) Perform a Technical SEO Audit
The first step of your SEO campaign should be to audit your website carefully.
Why?
Because technical SEO issues can make or break your website's performance in Google.
SEO audit means checking the health of a website and find out what fixes might be needed to improve the website performance.
You can use SEMrush (FREE or Paid) to audit your website.
SEMrush is one of the best SEO tools in the market.
Just head over to www.semrush.com
Then create an account.
And confirm your email address.
Then under the SEMrush Dashboard, add your website to monitor the performance.
Also, select your target country (where you want to rank) from the dropdown menu.
Once you set up your website properly in SEMrush, this tool will show you the Audit report:
Like this:
Depending on the SEO Audit report, you have to take the necessary actions.
Let's see what are the MOST common issues a large website often has.
(1) Duplicate Content Issue
This is one factor Google doesn't like at all.
You might be wondering:
What is Duplicate Content in SEO?
Duplicate content is content that appears on the Internet in more than one web page.
When duplicate content is present, a website can suffer from keyword rankings and traffic losses.
Now the question is:
How to fix duplicate content issues?
It's simple.
Write unique content for all the pages that are indexed in Google.
Problem solved.
(2) Missing Title Tags
A title tag is one of the most important factors in SEO.
What is Title Tag in SEO?
A title tag is an HTML element that describes the main topic of a web page.
The title tag has several benefits in SEO ranking.
You can include the keyword in Title
Google shows the title at the top in search results
Title tag helps to boost organic CTR
(More on this later)
(3) Website Loading Speed
The website loading speed is one of the MOST important factors to rank a website on Google.
In fact:
Google officially confirmed this in their blog.
In short:
A slow-loading website can hurt your website's Google rankings.
Now the obvious question is:
How to improve your website's loading speed?
You can use Google's own speed testing tool:
https://developers.google.com/speed/pagespeed/insights/
Just put your website URL in the search box and hit ANALYZE.
This Google's tool basically scans your webpage's code for problems…
And it will show you loading speed score in Mobile and Desktop.
Like this:
And this:
Google will also show you the opportunities that can help to speed up your page load.
Amazing 🙂
You can also use GTmetrix to check loading speed issues and fix them accordingly.

This is also a GREAT tool.
(4) Your website MUST have SSL Certificate installed
SSL or HTTPS is another ranking factor that Google officially announced.
Actually, security is a top priority for Google.
If your website is NOT secured it will look like this in Google Chrome browser:
Looks unprofessional.
(I will install SSL soon)
This might hurt your brand's reputation and also might hurt in Google rankings.
In short:
Your website MUST be secured with HTTPS.
Over time this will help to rank your website in Google and other search engines.
(5) Look for Low-Quality Pages in Your Website
Type site:yourwebsite.com in Google.
This will show you how many pages Google has indexed from your website:
You just need to check if there is any low-quality page indexed on Google or not.
Why does this so important?
Google prefers fewer pages with high-quality content.
Gary Illyes (Google Webmaster Trends Analyst) said that:
For example:
This is a low value-added page from my website that got indexed.

I need to no-index this page.
Remember:
It makes logical sense to think that the more content you have, the more chances your website have to rank for different keywords.
But:
If your content isn't GREAT in Google's eyes, compared to other content they have in the index, then it won't rank as well as that other content.
In short: Focus on quality content.
(6) Make Sure Your Website is Mobile friendly
Your website has to be mobile optimized.
Why?
There are 2 main reasons:
(1) Most of the Google searches are now from mobile devices.
(2) Google has recently started using their Mobile-First Index Algorithm.
This means that Google now uses the mobile version of your site for mobile AND desktop searches.
Now the question is:
How do you know if your website is mobile-friendly or not?
You can use Google's Mobile-Friendly Testing Tool.
Just put your website URL into the tool…
You'll see whether or not Google considers your website optimized for mobile devices.
My website is mobile friendly…
Bingo 🙂
(7) Fix The Broken Links (404 Errors)
Broken links are bad for user experience…
Google's John Mueller explained that:
GoogleBot can handle broken links but many of your users cannot.
So, make sure to fix them more for usability issues versus SEO issues.
Remember:
Lots of dead links CAN hurt your SEO performance over time.
(As people become irritated to see 404 pages).
Now the question is:
How to fix broken links on your website?
You can use Google Search Console to find if your website has any broken links (404 errors).
Just login to Google search console > Coverage > Error:
If your website has any 404 errors you will see something like this:
If your website doesn't have any 404 errors you will see this:
Keep in mind:
If your website has lots of 404 pages, you should 301 redirect them to closely related pages.
Problem solved.
If you have a WordPress website or blog the process is MUCH easier.
You need to install a plugin called Redirection.
Then open the plugin and put the 404 page URL into the Source URL box.
…And, put the target page URL into the Target URL box.
Lastly hit the Add Redirect button.
And you're set…
Once all the technical SEO issues fixed, move onto the next chapter, which is:
(2) Competitor Analysis

(A MUST)
If you are serious about ranking your website in Google, competitor analysis is a MUST.
Here is the actual process:
Say your target keyword is "content marketing strategy".
Search with your target keyword in Google.
Examine the top 5 ranking pages.
How?
Keep reading…
List down the weaknesses and strong points of the top 5 ranking pages.
For example:
HubSpot's article is ranking in the top 5.
Here are a few strong points of this page…
(1) The article is well written.
(2) They have a high authority website.
(3) The article is very in-depth and well structured
(4) The page has strong backlinks
Now:
The following are a few weaknesses…
(1) They have used a boring stock photo at the top
(2) The article doesn't have attractive images, screenshots, charts or other multimedia
Today readers love to read content with lots of multimedia.
Also, multimedia helps readers to understand the content easily.
(3) Paragraphs are lengthy (People like to read short paragraphs)
(4) The strategies are NOT actionable
As you can see in the above screenshot they mentioned to run a content audit, but how to do it step-by-step guide is missing.
This is called "content gap".
Your goal should be to fill that gap in your content.
Once your competitor analysis is complete, your job is to eliminate the weaknesses and adapt the strong points into your target page.
Do what they aren't doing.
Remember:
The article is easy to create, but creating other forms of media (custom images, videos, charts, etc.) is more challenging.
The more challenging something is, the less likely competitors are willing to do it.
(3) Make Your Content

10x Better

Than Competitor
If you want to achieve Google's first-page ranking in 2023, you HAVE to create AMAZING content.
Why is this so important?
That's because according to WordPress there are over 2 million blog posts published every single day.
This is crazy!
Not ends here:
Google recommends creating great content…
Google also says that:
"A useful post once a week is better than low-quality content published daily."
Source: Google
Bottom Line?
If you want to beat your competitors in Google there is only ONE way to do it.
Create 10x better content.
Here's how to do it:
Satisfy Search Intent:
Your #1 goal should be to satisfy the search intent.
Why is search intent important in SEO?
Actually, satisfying search intent is Google's ultimate ranking factor.
Now, the question is:
How to satisfy search intent?
Search for your target keyword in Google.
If the majority of the results are blog posts, you need to create a blog post.
If the majority of the results are product or service pages, then you should try to rank a product or service page.
Makes sense?
Let me show you an example:
Say your target keyword is "digital marketing strategy".
Search with your target keyword on Google
…And analyze the first page rankings:
In this example, all the top-ranking results are blog posts.
So, if you want to rank for this keyword you need to create a blog post.
Here is another example:
Search for another keyword in Google (digital marketing agency UK):
In this case, most of the ranking pages are Homepage.
So, it's better to target your homepage for this keyword.
Write Long-Form Content
Several industry studies have found that long content ranks better in Google.
Remember:
Satisfying search intent should be your ultimate goal.
However, in most cases, a higher word count is a competitive advantage.
Get an average word count for your top 10 competitors.
…And then double it.
That'll be your target word count.
For example:
If your competitors have 2000 words on its page (on average)…

…You should aim to create 4,000-words content.

You can create even 10,000 words content.

Am I crazy?

NO!
Here is the truth:
Most of your competitors are probably lazy.
That's why you have to create valuable and unbeatable content on your website.
So, your competitors would say:
Oh god! This is too difficult for us to create.
This will help your content to stand out from the crowd.
How to do it?
Write Actionable Content
People love to read actionable content.
In other words:
People want information that they can use right away.
Write easy to follow tips for your readers.
That's it…
Include Lots of Images, Screenshots
People looooove multimedia.
Are your competitors using images, videos, or audio?
If not, these are HUGE advantages for you.
For example:
I use lots of screenshots in most of my blog posts.
You should use relevant multimedia in your content.
This simple strategy will help your content looks visually stunning than your competitors.
Make Your Content Up-To-Date
Google and people both LOVE new and up-to-date content.
Keep in mind:
Google's #1 job is to make its users (searchers) happy.
That's why Google loves to rank updated content.
Google also shows the content published to date in SERP:
This can help to boost CTR.
Make Your Content Easy to Read and Understand
People hate reading difficult words.
Your content should be easy to read and digest.
So, how to create easy to understand the content?
Use lots of sub-headings:
I personally use subheadings a lot (where makes sense)
Use short sentences and paragraphs:
You should write short sentences and short paragraphs like this:
This will help to improve the readability of your content.
Lastly, Make your Content MORE valuable
Make your content better on every level.
How?
Include more tips
Better design
Easy words
Easy to follow tips
Good presentation etc.
Stop looking at search queries as keywords.
A keyword is usually a problem that someone's trying to solve.
Look at these key terms, keywords, key phrases as problems.
If your content can solve the problems people are looking for…
…You're going to get more traffic.
Pro Tips: Need profitable keywords? Try our keyword research services for SEO
(4) On-Page SEO (Optimize Content)
This step is to make your content SEO friendly.
On-page SEO isn't about just inserting keywords after keywords.
Creating effective search engine friendly content is much more than just placing keywords on a page!
I'm going to show you exactly how to optimize your content in the right way.
(1) Start title with a keyword
As I have mentioned earlier, the title tag is the MOST important on-page SEO factor.
In general, if you put the keyword at the beginning of the title tag, the more weight it has with Google.
Here's an example from my website:
Note: You don't always need to start your title tag with your target keyword. However, if there is a scope, grab that opportunity.
(2) Include keyword As Early As Possible in The Content
Your keyword should appear in the first 100 words of your article.
Here is an example from my SEO course in Kolkata page:
While there is no hard and fast rule.
However, in general, this simple thing can help Google to understand what your page is all about.
(Fast!)
(3) SEO friendly URL (Include Target Keyword)
Making an SEO friendly URL is a smart technique.
You should focus on the following 2 factors:
Include your target keyword in URL: It will help Google and human to understand the topic of your page easily.
Make your URL very short and simple: According to Google, they give more weight to the first 3-5 words in a URL.
Always try to avoid long URLs for your website and blog posts.
Note: Use hyphens (-) to separate each word in your URL.
For example, here's a URL from a web page on my website:
Google states that people should avoid using underscores in their URLs.
Instead, they recommend hyphens on their official website:
So:
Keep a simple URL structure.
(4) Add Modifiers To Your Title (MORE Organic Traffic)
Using modifiers will help to rank your page for long-tail versions of your target keywords.
Following are a few modifiers you can use:
The current year (2023, 2024, 2025)
Best
Top
Simple
Advanced
Easy
Here is a real-life example: (I have used this technique for one of my pages)
(5) Use Outbound Links (Link Out to Helpful Resources)
Outbound links to related pages help Google figure out your page's topic.
It also shows Google and readers that your page is a hub of quality info.
Keep in mind that the sites you link out to reflect on you.
So make sure to link out to a handful of authority sites whenever possible.
Also, an outbound link helps your reader to understand the content and the steps very easily.
I always link out to other sources where make sense.
Here is an example:
(6) Use Internal Links (Internal Links From Old Page To Your New Page)
Internal links help Google to find and index all of the pages on your website.
If you use them strategically, internal links can send page authority to your most important pages.
In short: internal linking is key for any website to get higher rankings in Google.
Keep in mind:
Try to use relevant anchor text for internal linking…
…And MUST avoid generic anchor text like "click here".
Keyword rich anchor text helps Google to understand the topic of the page you are internally linking to.
The most important fact is:
Google even recommends that you should use keywords in your anchor text:
Here is an example from my blog:
The anchor text "keyword stuffing" tells Google and readers that the page I'm linking to is about keyword stuffing.
This is very important.
(8) Optimize for Organic CTR (A POWERFUL Google Ranking Factor)
If you want to grow your organic traffic and ranking in 2023…
…You MUST focus on CTR.
It's a HUGE Google ranking signal right NOW.
When lots of people clicking on your result, it tells Google that people are LOVING your listing.
So:
They improve the position on Google.
Now the question is:
How to improve organic CTR (Click Through Rate)…
The answer:
Add Power Words in Your title.
This is one of the best tactics to increase organic CTR.
Power words help a title tag to stand out in SERP and will help to get more organic clicks.
For example:
If your main title tag is:
21 Ways to Lose Weight in 2023
You can include a power word to make the title more attractive…
21

Proven

Ways to Lose Weight in 2023
The word "Proven" is a power word.
The following are a few power words you can use in your title.
Awesome
New
Fast
Proven
Crazy
Amazing
Results
Easy
Step-by-Step
Simple
Best
I personally use power words in my headings.
For example:
(5) Content Marketing To Build Backlinks
You have fixed all the technical SEO issues of your website…
You have written an outstanding content…
You have optimized the content with keywords…
What next?
The last step of this guide is:
You have to build high-quality backlinks to your website.
Without backlinks, you will NOT be able to rank in Google for high search volume keywords.
(Especially competitive keywords)
In fact, Google themselves state that:
Remember:
Only natural links are useful for indexing and ranking of your site on Google.
The BIGGEST problem with link building is that people are NOT going to link to your services page or product pages.
You NEED to promote your blog posts (content assets) to build links.
You SHOULD develop a reverse silo architecture.
Here's what that looks like:
In simple words:
Creating content assets around informational keywords and then you build internal links to your product or service pages.
Lastly, you should focus on acquiring backlinks to your informational content assets because they're easier to promote.
Now let's see how to build backlinks to content assets.
(1) Look For Competitors Quality Backlinks
This is ONE of the best ways to get links.
First, search with your target keyword in Google…
…and include the top 10 ranking results in a Google spreadsheet:
Next, check who are linking to these top 10 ranking content.
Include each URL into a backlink analysis tool (I'm using Ahrefs here)
These backlinks to your competitors are your opportunities.
Now:
Your need to get these links (as much as you can) to your content asset.
How to do it?
Email Outreach…
You have to send personalized email to each of those blogs to let them know about your amazing content.
Wait for a second…
Do personal email outreach really work?
My answer:
Definitely works.
Here is a real-life example:
Here's an email outreach script you can use:
Subject: Hi John, I have a question

Hi John,

I just found the following article on your blog:

(URL)

I noticed that you mentioned (your competitor content title) in your article.

The content is good but it's NOT in-depth.

Actually, I have created more thorough and up-to-date content:

(Your content asset URL)

The article might make a nice addition to your content.

Keep up the great work!

Best Regards

(Your First Name)
Warning: Don't use this exact template. Your response rate will be low. Always personalize your emails.
If you send 100 emails to the right person, you should get at least 4-5 backlinks.
Which is good.
Make sure you personalize each email in your outreach campaign.
Otherwise, it will NOT work.
(2) Link Roundup (A POWERFUL Link Building Strategy)
Link roundup is one of the easiest link building techniques.
But wait…
What is Link Roundup Exactly?
Link roundups are daily, weekly or monthly blog posts that link out to amazing and helpful content.
Here's a real-life example: (I have build backlink using this technique)
Let me show you the exact process to get these easiest links.
First, find Link Roundup blogs:
You can use the following search strings to find link roundup blogs.
"Keyword" + "link roundup"
"Keyword" + roundup
"Keyword" + "weekly roundup"
"Keyword" + "this week"
"Keyword" + "monthly roundup"
Here is an example:
I would recommend changing the date settings to get NEW results.
Just search with any of the above-listed search string in Google…
Click on Tools and then select Past year from drop down…
You should reach out to those bloggers who are still running link roundups.
Send your amazing content to them.
Subject: NEW content for your roundup

Hi John,

I'm reaching out because I recently published a 4000+ words in-depth content that might be a good fit in your upcoming roundup:

(Your content URL)

Keep posting your amazing roundup 🙂

Cheers,

(Your First Name)
(3) Guest Posting (Only on Quality Blogs)
First things first:
You can't do a guest post on any random blogs.
You have to be very selective and careful while building backlinks through a guest post.
Why is that?
Actually, Google states that large scale guest posting campaigns that use "keyword-rich" anchor text links are a no-no.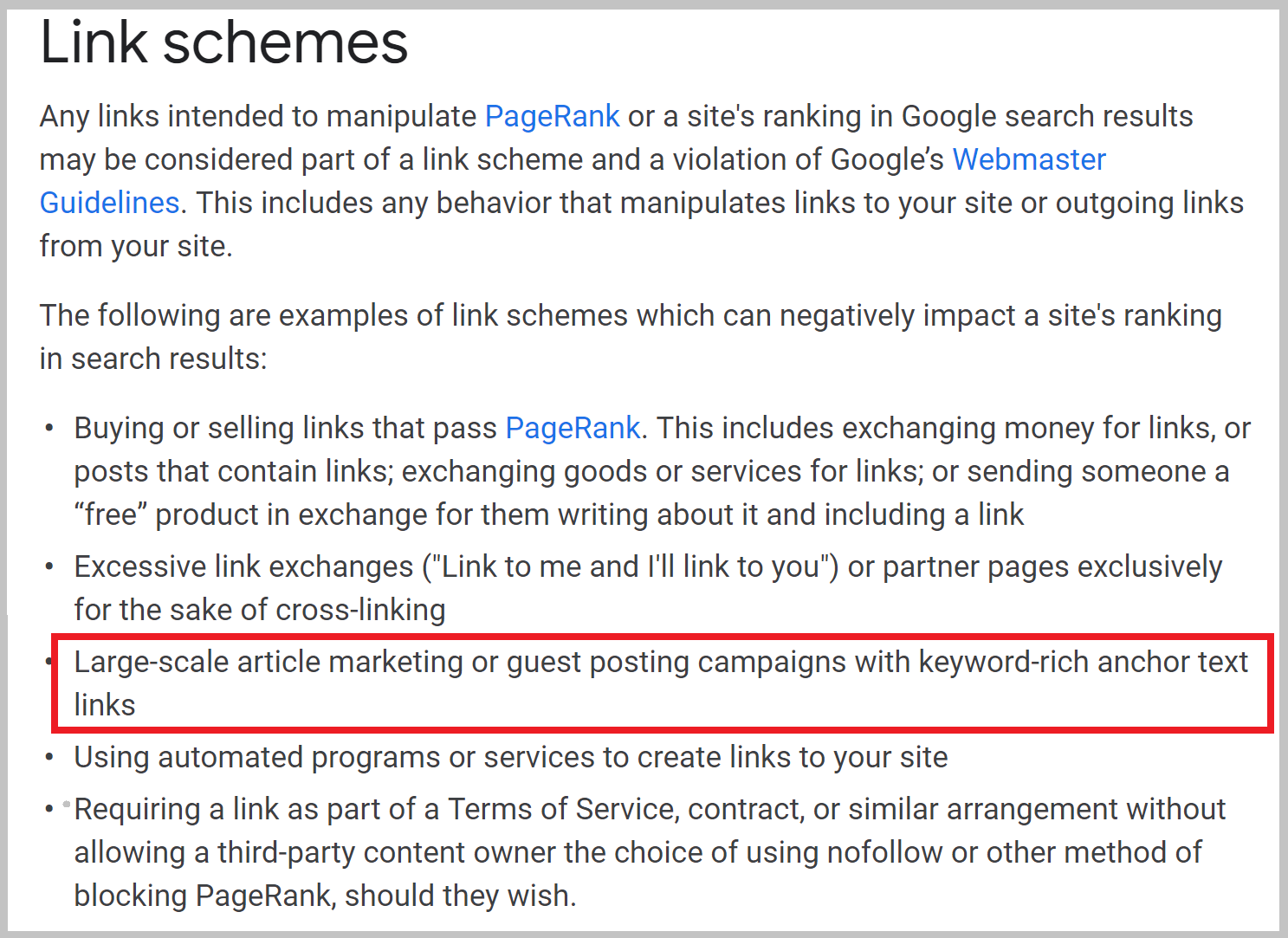 So:
DON'T use keyword-rich anchor text in your backlinks while doing a guest post.
Your first step is to find blogs that accept guest posts.
Here are a few ways to find guest posting blogs:
Write for us + keyword
Keyword + "guest post"
"Guest post by" keyword
Keyword + submit a guest post
Once you have a list of quality blogs in your hand, it's time for email outreach.
Subject: Guest posting proposal

Hello John,

I am Rintu Biswas, by profession an SEO Expert since 2011.

I would love to write a guest post on your blog (blog name).

I've gathered a few topics:

Topic #1:

Topic # 2:

Topic # 3:

I know you don't accept guest posts often, but I would be honored if I could contribute to (blog name)

If not, no worries – I won't stop reading your posts 🙂

Kind Regards,

(Your First Name)
Note: This is a generic email script. You need to personalize this script as much as possible to increase the response rate.
Final Words:
I hope you enjoyed my guide on how to rank higher in Google search results.
(In 2023)
Now I'd like to hear from you:
Which strategy from this guide you loved the MOST?
Let me know by leaving a comment below right now.
I'm waiting 🙂
Want Google's first page rankings and more organic traffic?
Contact us RIGHT NOW!
Email: rintubiswas7@gmail.com
Mobile: 8013023976 and 7980883582