Your search for keyword research for the YouTube videos guide in 2024 ends here!
Video keyword research is a process of finding words and phrases that people use to search for on YouTube.
Why is this important?
We all know that YouTube is one of the most popular and demanding websites in the world.
However, YouTube isn't just a popular website, it's the 2nd biggest search engine on the planet.
That means, people love to search for video content on YouTube all the time.
So, it's clear that to succeed in YouTube, keyword research for YouTube videos is a MUST.
Without wasting any time, let's see how to do keyword research for YouTube videos (in 2024)
Technique #1:

YouTube Auto-Suggest Feature

One of the best keyword research techniques is to use YouTube's Search Suggest feature.

YouTube Auto Suggest or Autocomplete works just like Google Suggest.

First, head over to YouTube.com and pop in a word or phrase in the YouTube search box…
When you enter a keyword like "weight loss" in the YouTube search box, YouTube will start suggesting keyword ideas related to what you just typed.
These suggested keywords from YouTube are absolutely awesome.
Why?
Because these are the keywords that people actually search on YouTube.
If YouTube is suggesting these keywords to you, that means these are 100% relevant and popular keywords.
So, you don't need to worry at all…
Technique #2:

Underscore Technique in YouTube Search Box
If you really want to know how to research keywords for youtube, you will love this technique.
(I'm sure)
Another great idea to do YouTube keyword research for SEO in 2024 is to use the underscore technique.
Here's how it works:
First, type a keyword in the YouTube search box…
But, don't press enter.
Now, put an underscore ("_") and one space before your searched keyword.
YouTube will immediately show you a few word suggestions that appear BEFORE your searched keyword like this:
These are a few untapped YouTube video keywords, that your competitors might not know about.
Technique #3:

Competitors Most Popular Videos
This is another easy but effective way to do keyword research for your YouTube videos.
Say, you are in the fashion niche.
Find a popular YouTube channel in your industry.
Then check which video from that YouTube channel has the most views.
To begin with, this step, go to that channel and sort their YouTube videos by "Most Popular".
This little-known technique will show you their videos with the most views till date.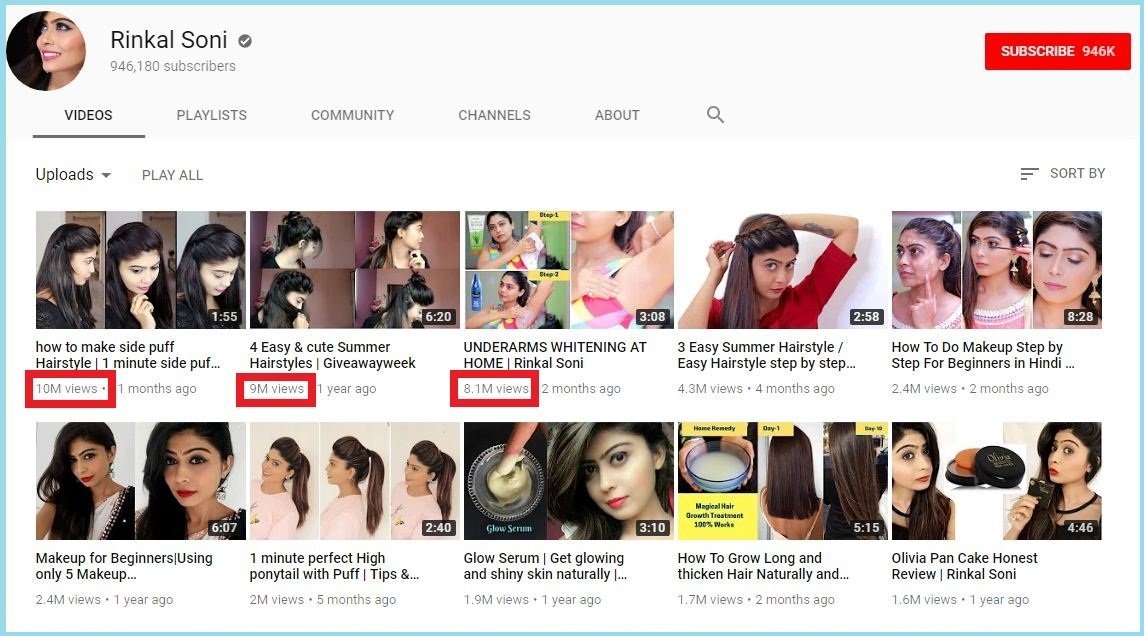 Next, pick a video from the list that is most relevant to your industry and make an awesome video.
In general, if the video is in your niche, it'll work for you as well.
Finally, check which keywords that video is optimized for YouTube SEO.
This is a very simple process.
Just check its title, description and video tags to get the idea fro which keyword the video is optimized for.
It's clear that the video is optimized for "side puff Hairstyle".
And, it's rank #1 on YouTube as well.
Technique #4:

Competitor's Ranking Video Tags
First, install the below mentioned excellent extension in Google Chrome browser.
Say you are in the social media marketing niche.
Find a popular YouTube video about social media…
For example:
Search on YouTube with "facebook marketing tips".
Then click on any top ranking video from the result.
Just scroll down and click on "Show More"…
You will see something great…
I told you, you will see something great 🙂