Backlinks are one of the most important of the existing ranking factors. It is hardly possible to rank well in Google without a solid backlink profile.
That's why you see your competitors rank high in the search for some niche-related keywords. Yes, the reason for such success is in a rich backlink profile the competitors have.
It should be stated that links are the basis of Google's PageRank algorithm. Thus, this is one of the reasons why SEO experts see a positive correlation between links and rankings.
At first glance, a huge amount of backlinks that your competitors have is a bad sign. You might think that there is no chance to outrun your main competitors in a "backlink profile power."
However, it is not so.
Ask yourself "Are there any chances that people would link to me if they link to my competitors?"
Yes, you have equal odds!
If you are curious to know how to find competitors backlinks,  you are in the right place.
In this guide, I am going to cover a few actionable ways to loot your competitors' links without any fuss.
Let's start!
SIDENOTE: if you are curious about finding high-quality backlink opportunities, you should check out this video:
(1)

Identify Your Competitors First
You should take into account that there are two types of competitors. Let's consider both of them.
1: Domain-level competitors
You can have competitors that compete with you for many search terms, not just a few of them. Literally, they "beat" you in the SERP to its full extent.
These competitors are called "domain-level" ones.
To find this type of competitors, I recommend you to use "Competing domains" report that is available in the Site Explorer tool. Let's see what competitors an email marketing Life Marketing has:
You can see a report that is sorted by the number of common keywords.
A quick view gives you an idea that one of the websites that Life Marketing competes with for common keywords is sproutsocial.com:
There are 8.7K common keywords, which means these guys have lots of backlinks!
It should be fair to state that this domain-level analysis not always gives you a chance to find competitors related to your niche. It provides you with the potential competitors that compete for the same keywords.
2: Page-level competitors
In this particular case, I am talking about the websites that compete with you on a page-level for specific keywords or topics.
How to identify your page-level competitors?
Keywords Explorer tool comes in handy here. Take a particular keyword your certain page ranks for and put it to the tool. Afterwards, go to the "SERP overview" report and check out the results:
Grab these opportunities and move to the actual tactics I am going to cover ahead.
(2)

Use Competitors' Guest Post Opportunities to Your Own Benefit
No doubts that guest posting is one of the most legitimate ways to build links. Thus, it is essential that your competitors also use this strategy.
The question is how to find competitors' guest posts without any hustle?
1: Google search queries
As you already guessed, you will have to apply a few 'magic' queries that would help you find competitor guest posts. However, I believe that the following query would be enough for this purpose:
"Author name" + "guest post" -site:competitordomain.com -site:https://twitter.com
Let's see how it works: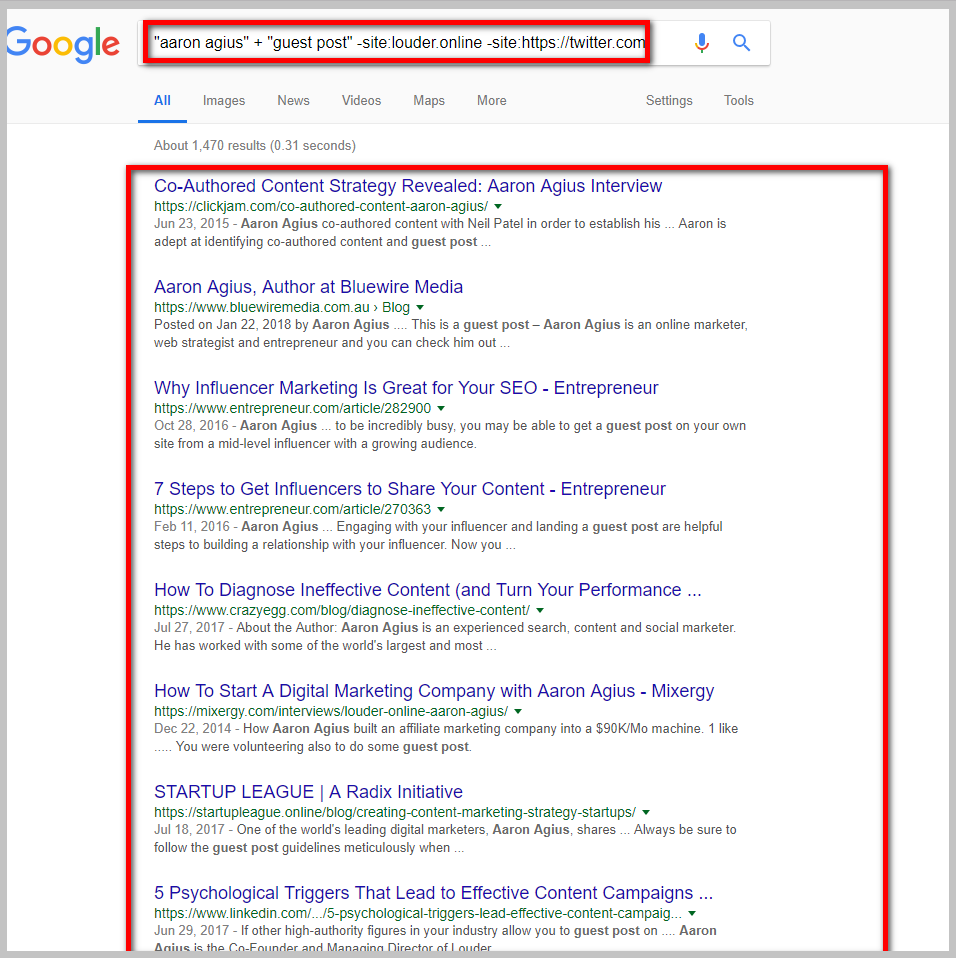 Or you can simplify your search query a bit with the help of this formula:
"Author name" + inurl:author
Like this:
2: With the help of image search
I advise you to go to LinkedIn and use "Search Google for image" option by clicking person's profile image:
Afterwards, you will get a list of mentions where the author's image has been included:
3: With the help of Content Explorer tool
The tool works similar to Google search but it offers some pretty cool additional filter options. Use the query 'author:Author name' and check out what you will get:
(3)

Find Dozens of Link Opportunities by Exploring Your Competitors' Homepage Links
I am sure you know that people mostly link to their website's home pages. They act this way because they want to refer to a brand in general instead of some specific landing page for instance.
This nuance gives you a wonderful opportunity to analyze your competitors' homepage links to find out where they were mentioned.
Let's take some random website that is related to email marketing niche and see where it has been mentioned:
You can see that most of these links are brand mentions. So, you might think something like this:
"How to turn these competitor's brand mentions into my own?"
Go to Site Explorer tool and analyze one of your main competitors. You should focus your attention on "Backlinks" report with a "dofollow" filter option:
The tool provides with the list of links that point to your competitor website's homepage. You will have to analyze these links to understand the reason why your competitor got this mention then. A straightforward way to figure out this is to review anchors, surrounding link text, and the page title.
Having got the information analyzed you will understand all necessary aspects of these brand mentions. It will help you build your further strategy to get your brand mentioned as well.
(4)

Build Strong Relationships with Your Competitors' Loyal Fans
I would like to start by giving you two short arguments why it is important to build relationships with your competitor's fans:
Fans link and refer to your competitor for sure. Thus, it is a great chance to convince them to link to your brand as well
You can turn the competitor's fans into yours
How to find these fans then?
"Best by links" report will come in handy here (don't forget to point "200 ok" filter):
Then copy from 5 to 10 URLs and paste them into Link Intersect tool with "show me who is linking to all of the below targets" mode:
From the statistic above you can see that there are seven fans that have linked to our example brand five times.
The same approach fits for any other niche where you will be able to find your competitors' fans.
(5)

Loot Competitors' Links from Page-Level Content
This strategy is all about a good old 'Skyscraper technique" from Brian Dean. I am sure you remember how this technique works, right?
So, why not to build links with the help of it?
As you know you will have to find your competitor's content first. "Best by links" report helps us again. Here is an example related to SEO niche brand:
The report shows the list of results that pinpoints to different pages on the competitor's website. However, if you have a look at the list carefully, you will see a couple of links that lead to the content you might be interested in. I think that these two topics could be a nice fit for using a skyscraper technique:
The Ultimate Guide to Guest Blogging
A Beginner's Guide to Successful Email Marketing
You can go further and find more topic opportunities from your competitor's content. It means you will have a good chance to build more links as a result.
(6) Broken Link-Building Tactics
Broken link-building is another way to get some backlinks using your competitors. The idea is pretty simple.
You should search for broken links that point to your competitors first. Afterwards, you should reach out to the website owners where these broken links are hosted and offer them to replace the links with your ones.
How to find the broken links?
"Broken Links" report in a "backlink profile overview" section will help you here:
Run through the report and find the opportunities that seem promising to you. Get in touch with a website's owner where a broken backlink has been detected and offer to replace it with your link.
That's all.
(7) Spy Your Competitors' Backlink Updates
Any competition is a kind of struggle where you must be on top. You should know about each step your competitor takes.
In our case, I am talking about new links that your competitor could acquire.
It goes without saying that it is challenging to monitor your competitor's activity round the clock manually. But it is as easy as pie with the help of alerts.
Go to Ahrefs dashboard and select "Alerts" tab to set them:
Then you should create an alert for getting latest backlinks your competitors acquire:
Set the alert according to your timing preferences. You can get the notifications with new backlinks daily, weekly, or monthly.
However, here is the thing – if you 'spy' some competitor that has a strong backlink profile, it is gonna be hard to check all the links at once. Thus, why shouldn't you set up an alert for a specific URL?
It makes the process of going through the links easier and more targeted.
To Conclude:
'Stealing' competitor links is not a crime.
It is just a way to make your backlink profile more competitive in the niche you evolve. The entire process is time-consuming and not always a hundred percent resultative. However, I can assure you that you will win this game.
I gave you seven actionable tactics that will help to get more backlinks from your competitors.
If you found these tricks useful, then feel free to share this post on your social media channels.
Don't forget to leave your comments as well.
Author's bio: Sergey Aliokhin is a Marketing Manager at Ahrefs. Apart from working at Ahrefs, he likes spending his time with family, studying martial arts and plucking fat bass guitar strings.